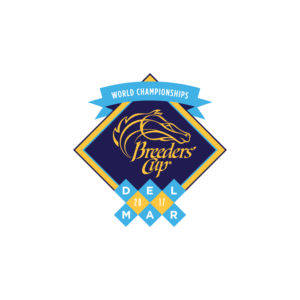 FRIDAY – 11/03/2017
Ok guys, here is my write-up on the Friday Breeders' Cup races.  If I play any tickets on the early card I will try and post them on Twitter.  Remember, we have nine more races on the Saturday card so don't go all-in today!
Christmas comes early for horse players every year in the form of the Breeders' Cup, two days of the best betting opportunities of the entire year.  Del Mar Thoroughbred Club hosts the 2017 edition which includes 13 championship stakes races over two days.
Breeders' Cup races kick off on Friday with Race 6 on the Del Mar card, post time 2:25pm PST, with the Breeders' Cup Juvenile Fillies Turf with two-year-old fillies going a mile on the turf course. I tend to look at the European horses making the trip for this race first as turf racing in Europe tends to be much more competitive than in the United States.  My top selection here is the 2 Happily (9-2 ML) for trainer Aidan O'Brien.  Ryan Moore gets the mount for this filly who won her past two races and four of her past five including two Grade 1 stakes steadily improving with each outing.  My second choice is another Irish bred filly, 10 September (6-1 ML), also trained by the aforementioned O'Brien.  September has hit the board in four of her five races and has a nice closing kick.  My third selection in here is from turf trainer extraordinaire Chad Brown, 11 Rushing Fall (7-2 ML).  With only two races under her belt, both wins, this filly may not have the experience of the European horses above, but has been working well and Brown has won this race three times in the past nine years with two runner-up finishes.
A few horses to look at to use underneath in your Trifecta and Superfecta bets include:
3 Now You're Talking (30-1 ML)  – another Irish horse trained by the son of Aidan O'Brien
7 Capla Temptress (6-1 ML) – another Irish horse that recently won the Grade 1 Natalma at Woodbine for trainer Bill Mott
8 Significant Form (8-1 ML) – another Brown trainee with only two races under her belt (both wins)
Race 7, with a post time of 3:05pm PST is The Las Vegas Breeders' Cup Dirt Mile.  I found this to be the toughest race on the Friday card to handicap, which might seem odd given the talent in the other races, but I believe that is the problem here, there are no stand outs in this race.  That led me to a price that I am willing to take a shot on, 2 Giant Expectations (12-1 ML) for trainer Peter Eurton gets a nice inside post position which should be a benefit as there will be a rush out of the gate to the first turn which is not very far from the starting gate given the configuration at Del Mar.  I believe that jockey Gary Stevens can keep him on the rail and just behind the leaders keeping enough in the tank for a strong stretch run.  3 Sharp Azteca (9-2 ML) hasn't raced since the Kelso on September 17th at Belmont, and trainer Jorge Navarro has been under the microscope for doping allegations at multiple tracks on the East Coast and I'm not sure we will see the same horse that we saw last year and earlier this year.  My third choice here is 8 Accelerate (7-2 ML) for trainer John Sadler and finished third in this race last year when the Breeders' Cup was held at Santa Anita.  I like that this colt has three wins and a third at Del Mar as well as jockey Victor Espinoza who guided both California Chrome and American Pharoah to Triple Crown wins.
Other horses to consider underneath include:
6 Mor Spirit (3-1 ML) – the Bob Baffert trainee hasn't raced since June, but my gut tells me he will have him ready.
4 Gato Del Oro (30-1 ML) – I don't think he can win, but the jockey change to the more aggressive Jose Ortiz is intriguing
9 Battle of Midway (10-1 ML) – has hit the board in 8 of 9 lifetime races including third in this year's Kentucky Derby, not a winner but a contender.
Race 8, with a post time of 3:50pm PST is The Breeders' Cup Juvenile Turf for two-year-old colts and geldings going a mile over the turf course.  Once again we look to the Euros as six of the fourteen entrants come from the other side of the Atlantic and in seven of the ten years this race has been run, it was won by a European import.  My top selection in here is 6 Masar (9-2 ML) an Irish bred colt for Godolphin Racing who has been improving in each of his four races this year.  A close second selection is 7 James Garfield an Irish bred colt trained by George Scott who is coming in off of a win in the Mill Reef Stakes at Newbury on September 23rd.  My third choice, 5 Beckford (8-1 ML), should cherish the added distance here as the longest he has gone is 7f and he appears to be a grinder who will be coming late.
Other horses to consider on your tickets:
3 Sands of Mali (30-1 ML) –  last outing was rough, but if you toss it he looks good enough to compete in here
1 Mendelssohn (8-1 ML) – Aidan O'Brien has three wins, and three runner-up finishes in this race so you can never count him out
13 My Boy Jack (8-1 ML) – I liked the ride by Kent Desormeaux last out and he rides today for this finisher who might not be ready to beat the Euros, but could factor in on the tote board.
Friday's Breeders' Cup races conclude with Race 9, with a post time of 4:35pm PST with The Longines Breeders' Cup Distaff at 1 1/8 miles over the dirt for fillies and mares. Last year's epic battle between Songbird and Beholder in this race will not be repeated, as they have both retired, but there are a number of quality horse in this field.  My top choice is 5 Elate (3-1 ML) a Bill Mott trainee who has three wins and two seconds in five races since experiencing issues in the Ashland at Keeneland in April.  Word is she is training great leading up to this race.  My second selection is 7 Paradise Woods (9-2 ML) who is entering this race off a win in the Zenyatta at Santa Anita on September 30th where she cleared the field and won by more than five lengths.  Another effort like that can win this race.  My third selection was last year's bridesmaid in this race finishing a game third behind the superstars, 6 Forever Unbridled (4-1 ML) has not raced since August, but the extra rest doesn't seem to faze her as she has won both of her races this year off of long layoffs.
Other horses to consider on your tickets:
2 Stellar Win (5-2 ML) – the favorite is now a five-year-old mare, and although she has done nothing but win during her three races in 2017 I get a gut feeling that she is not ready to take on this bunch
3 Mopotism (30-1) – it always catches my attention when Dettori takes the mount, maybe we catch lightning in a bottle here.
Good luck!
SIG
@SIGLasVegas
If I help you win at the track, please consider a small donation as a thank you for the work I put in handicapping the card and providing my selections.